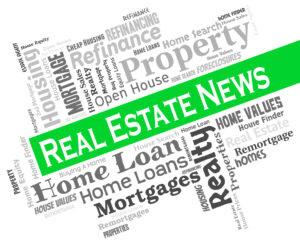 Headline Real Estate News
September 21st – September 26th
 9/22/20  Mortgage News Daily "Home Sales Surge to Best Levels in 14 Years"     Jann Swanson
Existing home sales continued on a roll for the third consecutive month, hitting the highest level in August since December 2006. The National Association of Realtors® (NAR) said sales of pre-owned single-family houses, townhomes, condos, and cooperative apartment were at a seasonally adjusted annual rate of 6 Million Units.
The August numbers came on top of a 24.7 percent rise the prior month and 20.7 percent growth in June. Since May, when the market began to recover from its 3-month long pandemic related tailspin, the pace of sales has risen by 2.2 million units.
Analysts had been bullish in their forecasts for the August numbers and didn't miss by much. Those polled by Econoday had expected sales in the range of 5.56 million to 6.44 million with a consensus of 5.97 million units.
Read More

9/22/20  Realtor Magazine "Home Sales Hit 2006 Levels, 'Continue to Amaze'"    
Home sales climbed in August to the likes of the 2006 housing boom days, despite the COVID-19 pandemic. Existing-home sales in each of the four major regions of the U.S. saw month-over-month and annual growth, the National Association of REALTORS® reported on Tuesday. The Northeast saw the largest monthly improvement in home sales.
Housing inventories continue to remain tight, putting upward pressure on home prices. Existing-home prices for all housing types in August climbed 11.4% compared to a year ago, reaching a median of $310,600. Prices rose in every region of the U.S. last month.
"Home sales continue to amaze, and there are plenty of buyers in the pipeline ready to enter the market," says Lawrence Yun, NAR's chief economist. "Further gains in sales are likely for the remainder of the year, with mortgage rates hovering around 3% and with continued job recovery."
This marks three consecutive months of gains in home sales. Total existing-home sales—completed transactions that include single-family homes, townhomes, condos, and co-ops—increased 2.4% in August compared to July, reaching a seasonally adjusted annual rate of 6 million in August. Sales are up 10.5% from a year ago.
Shortages of homes for sale have proven problematic in the housing industry over the last few years, but have grown even worse in recent months. "Housing demand is robust but supply is not, and this imbalance will inevitably harm affordability and hinder ownership opportunities," Yun says. "To assure broad gains in homeownership, more new homes need to be constructed."
However, a surge in lumber prices and the shortage of lumber caused by the California wildfires are pressing on the new-home industry, Yun says. "Over recent months, we have seen lumber prices surge dramatically," Yun says. "This has already led to an increase in the cost of multifamily housing and an even higher increase for single-family homes."
At the end of August, the National Association of Home Builders reported a spike in softwood lumber prices was prompting an average price increase of about $14,116 since April 17.
Here's a closer look at housing indicators from August, according to NAR's latest report:
Days on the market: Sixty-nine percent of homes sold in August were on the market for less than a month. Properties stayed on the market an average of 22 days in August, down from 31 days a year prior.
Housing inventories: Total housing inventory at the end of August was 1.49 million, down 18.6% from a year ago (1.83 million). Unsold inventory is at a three-month supply at the current sales pace.
First-time buyers: First-time home buyers accounted for 33% of home sales in August, which is up from 31% a year before.
Investors and second-home buyers: Individual investors or second-home buyers purchased 14% of homes in August, equal to a year ago. Investors and second-home buyers tend to make up the biggest bulk of all-cash sales. All-cash sales accounted for 18% of transactions in August, down from 19% in August 2019.
Distressed sales: Foreclosures and short sales represented less than 1% of sales in August, down from 2% a year prior.
Regional Breakdown
Median home prices increased at a double-digit pace in each of the four major regions in August compared to a year ago. Here's how existing-home sales fared across the country last month:
Northeast: Existing-home sales increased 13.8% in August—a 5.7% increase from a year ago. Median home price: $349,500, up 10.4% from August 2019.
Midwest: Existing-home sales rose 1.4% in August, up 9.3% from a year ago. Median home price: $246,300, a 10.7% increase from a year ago.
South: Existing-home prices increased by 0.8%, up 13% from a year ago. Median home price: $269,200, a 12.3% uptick from a year ago.
West: Existing-home price increased 0.8%—a 9.6% rise from a year ago. Median home price: $456,100, up 11.8% from a year ago.
9/23/20  HW  "Housing market stays hot into fall with mortgage applications up 6.8%"     Alex Roha
Refinances led the way, snagging almost two-thirds share of mortgage activity
Despite mortgage rates rising slightly from a previously all-time low, mortgage applications gained 6.8% last week, according to a report from the Mortgage Bankers Association.
The refinance index continued its upward climb, gaining 9% last week and jumping 86% higher than the same week one year ago. Refinances also nearly reached two thirds share of mortgage activity last week, increasing to 64.3% of total applications from 62.8% the week prior.
According to Mike Fratantoni, chief economist and vice president of research and technology at MBA, 2003 was the last time refinance activity was as high as the $1.75 trillion the MBA is forecasting for 2020.
On Sept. 9, Joel Kan, MBA's associate vice president of economic and industry forecasting, said the recent rebound in refinance activity was driven mainly by borrowers applying for conventional loans. However, last week Kan noted that while conventional and government refinances gained steam, FHA refis experienced a particular uptick.
On an unadjusted basis, purchase applications rose 13% compared with the previous week and were 25% higher than the same week one year ago – marking the 18th straight week of year-over-year gains.
The demand for higher-balance loans pushed the average purchase loan size to another record high, signaling that consumers' strong interest in home-buying this summer has now carried over to the fall, Kan said.
The adjustable-rate mortgage (ARM) share of activity fell slightly to 2.2% from 2.3% of total applications.
Here is a more detailed breakdown of this week's mortgage application data:
The FHA's share of mortgage apps rose to 10.1% from 9.7%.
The VA share of applications fell to 12% from 12.3%.
The USDA share of total applications rose to 0.6% from 0.5%.
The average contract interest rate for 30-year fixed-rate mortgages with conforming loan balances ($510,400 or less) rose to 3.1% from 3.07%.
The average contract interest rate for 30-year fixed-rate mortgages with jumbo loan balances (greater than $510,400) fell to 3.35% from 3.41%.
The average contract interest rate for 30-year fixed-rate mortgages backed by the FHA rose to 3.23% from 3.16%.
The average contract interest rate for 15-year fixed-rate mortgages rose to 2.64% from 2.61%.
The average contract interest rate for 5/1 ARMs fell to 3.19% from 3.2%.
9/24/20  Realtor Magazine "Home Buyers Face Another Shortage: Appliances"
Dishwashers, refrigerators, washers and dryers, and other household appliances are low in stock nationwide, and some consumers are waiting months for their orders to be fulfilled. The backup is yet another problem you can blame on the COVID-19 pandemic.
First, as consumers started hoarding food, there was a rush on freezers. "We sold more freezers in two days than we did all last year," Steve Sheinkopf of Boston-area Yale Appliance told NPR. "People were storing stuff because we thought this was the end of times. We needed food."
Factories began scaling back production during the initial stages of the pandemic for employee safety and a belief that rising unemployment would lead to lower consumer demand. But demand for appliances has surged, while shipments of major appliances fell 7% year to date in June, NPR reports.
The surge in demand is due to people sheltering at home and using their appliances more, leading to breakdowns from overuse. Many homeowners also are seeking appliance upgrades. Now that the housing market is recovering quickly, there's added pressure on appliance demand as consumers move to new homes.
Appliance manufacturers are warning of backlogs on several brands and models through the end of the year—and possibly even into 2021, NPR reports. "I have never experienced a year where there were shortages like we've seen this year," Sandy Tau, owner of Long Island, N.Y.-based AHC Appliances, told NPR. "We have freezers that are on back order since the end of March that have still not come in."
The above information in " Headline Real Estate News", was provided by David Fialk, Realtor Emeritus, and was obtained from various real estate news articles online of interest for home buyers, home sellers and home owners.
Licensed Since 1971, David Fialk is Licensed Real Estate Broker Salesperson in North Carolina (Intracoastal Realty, Wilmington 28411) & New Jersey (Coldwell Banker Residential Brokerage, Metuchen 08840) and has helped more than 1800 Families Move across Town… Throughout the State… and Across the Country!
Planning on purchasing real estate? Thinking of selling your home? For real estate information "You Can Rely On, Contact the REALTOR You Can Rely On".
David can be reached via email or by phone at 910-859-0200 or at www.DavidFialk.com.