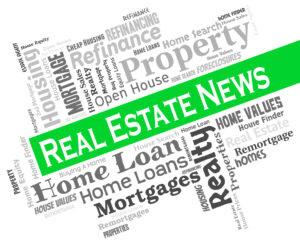 Headline Real Estate News




September 28th – October 3rd
9/29/20      "August Closings: Properties Averaged 3 Offers"

The frenzy in the housing market continued in August as buyer competition remained elevated. Properties that closed in August received an average of three offers, according to the August REALTORS® Confidence Index Survey. The report is based on a survey of about 4,000 REALTORS® about their latest real estate transactions.
Further evidence that the housing market is going strong: Buyer foot traffic to listings remains high. The REALTORS® Buyer Traffic Index increased to 76—any value above 50 means stronger buyer traffic compared to a year ago. All states except North Dakota and Illinois reported higher buyer traffic. North Dakota's housing market is still being affected by weak oil prices, the report says.
In-person tours continue amid the pandemic. REALTORS® reported conducting an average of four in-person home tours for their clients.
As buyer demand remains strong, homes are selling faster. Sixty-nine percent of listings stayed on the market for less than one month in August (reflecting listing date to contract date).
"With intense competition, buyers have to be better prepared to make an offer, including already getting prequalified by a lender," writes Scholastica "Gay" Cororaton, a research economist for NAR.
Buyers should also brace for higher home prices. The median price of existing homes increased to $310,600, an 11.4% year-over-year increase, according to NAR. Price appreciation was highest in the South, with a 12.3% annual gain. It was followed by an 11.8% jump in the West, a 10.7% increase in the Midwest, and a 10.4% increase in the
Northeast
9/30/20 "Pending Home Sales Just Hit a New All-Time High"     Jann Swanson
 Pending Home Sales Just Hit a New All-Time High

Contracts for existing home purchases rose for the fourth straight month in August and more than doubled the increase expected by most analysts. The National Association of Realtors® (NAR) says its Pending Home Sales Index (PHSI) rose from 122.1 in July to 132.8 in August, an increase of 8.8 percent.
The PHSI, based on contracts to purchase existing single-family houses, townhouses, condos, and cooperative apartments, is now at an all time high and is 24.2 percent above its level in August 2019. The index is also up 44.6 points from the point to which it plunged in April after the widespread business closures and stay-at-home responses to the COVID-19 pandemic.
Most analysts had looked for a strong report, but still didn't come close to predicting the actual gains. Those polled by Econoday had looked for an increase between 2.0 and 4.0 percent with a consensus of 3.1 percent. Analysts forecasting for Trading Economics had a consensus increase of 3.4 percent.
"Tremendously low mortgage rates – below 3 percent – have again helped pending home sales climb in August," said Lawrence Yun, NAR's chief economist. "Additionally, the Fed intends to hold short-term fed funds rates near 0 percent for the foreseeable future, which should in the absence of inflationary pressure keep mortgage rates low, and
that will undoubtably aid homebuyers continuing to enter the marketplace.
Read More
9/30/20 "No housing market slowdown as real estate agents report a busy fall"     Julia Falcon
Realtors can usually count on their biggest season being spring, followed by summer. But nothing about 2020 has been normal, including home-buying patterns. With shut-down orders in the spring, summer became the new home-buying season, and homebuyers were still incredibly active in August.
Now, believe it or not, fall home-buying season is in full swing.
Traditionally, home-buying season slows down during the fall because families have settled in their new homes just in time for school to start. Now that school is mostly virtual, that calculation may be changing a bit.
"There's a lot of homeschooling going on in this hybrid world, and it's difficult," Realtor Vesna Kanacki with Century 21 Full Service Realty in New City, New York, told HousingWire. Kanacki said that when it came to seasonal buying, "we're still riding the wave with 2020."
Kanacki's market, like many others, remains competitive as buyers continue to experience
bidding wars amid historically low housing inventory and an uptick in home prices.
Read More
9/30/20

   

Source "Buying Sprees Continue, Contract Signings Surge to Record High"
Pending home sales are exceeding pre-pandemic levels and defying forecasts. August marked the fourth consecutive month of escalating sales contract activity, with all four major regions of the U.S. posting higher year-over-year pending home sales numbers, the National Association of REALTORS® reported Wednesday.
NAR's Pending Home Sales Index—a forward-looking indicator based on contract signings —increased 8.8% in August to a record high of 132.8. (An index reading of 100 is equal to the level of contract activity in 2001.) Contract signings are now 24.2% higher than a year ago.
"Tremendously low mortgage rates—below 3%—have again helped pending home sales climb in August," says Lawrence Yun, NAR's chief economist. "Additionally, the Fed intends to hold [its] short-term funds rates near 0% for the foreseeable future, which should, in the absence of inflationary pressure, keep mortgage rates low, and that will
undoubtedly aid home buyers continuing to enter the marketplace."
The housing market has made a strong recovery since the outbreak of COVID-19 first struck the U.S. this past spring, which led to a sudden downturn in sales. Yun says pending sales contracts are now at an all-time high. However, he cautions that won't necessarily translate to a record number of home sales, because not all contracts lead to closings and there are sampling size variations. Yun also notes that the elevated sales likely are not sustainable due to ongoing inventory shortages of homes for sale.
"Home prices are heating up fast," Yun says. "The low mortgage rates are allowing buyers to secure cheaper mortgages, but many may find it harder to make the required down payment."
NAR recently reported that the median existing-home sales price was $310,600 in August, up 11.4% compared to a year ago ($278,800). Prices are rising in every major region of the U.S.
The metro areas where housing markets have seen the largest recovery or even exceeded their previous January levels, as of Sept. 19, are Seattle-Tacoma-Bellevue, Wash.; Las Vegas-Henderson-Paradise, Nev.; Boston-Cambridge-Newton, Mass.-N.H.; Denver-Aurora-Lakewood, Colo.; and Philadelphia-Camden-Wilmington, Pa.-N.J.-Del.-Md.,
according to realtor.com®'s Housing Market Recovery Index.
The above information in " Headline Real Estate News", was compiled and provided by David Fialk, Realtor Emeritus, and was obtained from various real estate news articles online of interest for home buyers, home sellers and home owners.
Licensed Since 1971, David Fialk is Licensed Real Estate Broker Salesperson in North Carolina(Intracoastal Realty, Wilmington 28411) & New Jersey(Coldwell Banker Residential Brokerage, Metuchen 08840) and has helped more than 1800 Families Move across Town… Throughout the State… and Across the Country!
Planning on purchasing real estate? Thinking of selling your home? For real estate information "You Can Rely On, Contact the REALTOR You Can Rely On".
David can be reached via email or by phone at 910-859-0200 or at www.DavidFialk.com.