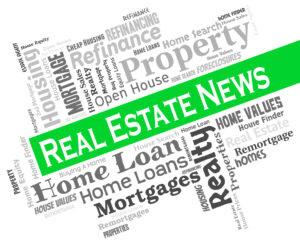 Headline Real Estate News


November 16,2020   – November 21, 2020
11/19/20 REALTOR Magazine "Home Sales Are on Fire, Up 27% From a Year Ago "     



For the fifth consecutive month, existing-home sales continued to be resilient in the face of the pandemic, climbing nearly 27% compared to a year ago, the National Association of REALTORS® reported Thursday.
Also reported this week, construction of single-family homes soared to the highest pace since the spring of 2007, as more buyers turned to the new-home market to find homes for sale.
Buyers continue to find higher prices and quick sales. Median existing-home prices continued rising last month, up nearly 16% compared to a year ago. The median existing-home price was $313,000 in October (a year ago prices were at $271,100), NAR reports.
"Considering that we remain in a period of stubbornly high unemployment relative to pre-pandemic levels, the housing sector performed remarkably well this year," says Lawrence Yun, NAR's chief economist.
Existing-home sales—completed transactions that include single-family homes, townhomes, condos, and co-ops–reached a seasonally-adjusted annual rate of 6.85 million in October, an increase of 4.3% from September. Total housing inventory continued to decline—down nearly 20% from a year ago—reaching a 1.42 million supply. That represents just a 2.5-month supply, a record low, at the current sales pace, NAR reports.
Listed homes are selling fast. Seventy-two percent of homes that sold in October were on the market for less than a month.
"The surge in sales in recent months has now offset the spring market losses," Yun says. "With news that a COVID-19 vaccine will soon be available, and with mortgage rates projected to hover around 3% in 2021, I expect the market's growth to continue into 2021." Yun predicts that existing-home sales will increase by 10% to 6 million in 2021.
Meanwhile, new-home construction is also seeing an uptick in demand. Compared to September, single-family construction increased 6.4% in October to a 1.18 million seasonally adjusted annual rate, up 8.6% from a year ago, the Commerce Department reported Wednesday. The biggest gains for single-family and multifamily starts were in the Midwest, up 15.5% annually in October, followed by a 7.5% gain in the South and a 4.7% increase in the West. The only region to post a decrease in new-home construction last month was 6.4% annually in the Northeast.
"Faced with many uncertainties in 2020, the real estate industry has been able to meet surprisingly strong home buying demand and help lead our country's economic recovery," says NAR President Charlie Oppler. "As we continue to help consumers secure housing and property, we will also remain vigilant in working to expand housing options, equality, and affordability for all who are entering the marketplace."
Regional Breakdown
All four major regions of the U.S. reported month-over-month and annual gains. The Midwest saw the greatest monthly increases. But median home prices increased at double-digit rates in each of the four major regions compared a year ago. Here's a breakdown of home sales from across the country in October:
Northeast: existing-home sales increased 4.7%, reaching an annual rate of 900,000—up 30.4% from a year ago.
Median price: $356,500, up 20.2% from a year ago.
Midwest: existing-home sales increased 8.6% annually to a rate of 1.64 million, up 28.1% from last year's levels.
Median price: $243,500, up 16.7% from a year ago.
South: existing-home sales rose 3.2% to an annual rate of 2.91 million in October, up 26.5% from a year ago.
Median price: $272,500, up 15.7% from a year ago.
West: existing-home sales rose 1.4% in October to an annual rate of 1.4 million, a 22.8% uptick from a year ago.
Median price: $457,800, up 15.1% from a year ago.
Additional Housing Stats From October
Here are more highlights from NAR's latest existing-home sales report:
Days on the market: Properties typically remained on the market for 21 days in October, down from 36 days in October 2019.
First-time buyers: First-time buyers comprised 32% of sales in October, up from 31% a year ago.
Investors and second-home buyers: Individual investors or second-home buyers purchased 14% of homes in October, equal to a year ago. Investors and second-home buyers tend to account for a bulk of all-cash sales, which were unchanged from a year ago comprising 19% of transactions.
Distressed sales: Foreclosures and short sales represented less than 1% of sales in October, down from 2% a year ago.
NAR existing home sales October 2020.


© National Association of REALTORS®
11/19/20 " Mortgage rates break record again, down to 2.72%"     Alexa Roha

There have now been 17 consecutive weeks when average mortgage rates have been below 3%
The average U.S. mortgage rate for a 30-year fixed loan fell this week to 2.72%, Freddie Mac said in a report on Thursday – the lowest rate in the survey's near 50-year history. This week's rate broke the previous record set on Nov. 5 by 6 basis points.
The average fixed rate for a 15-year mortgage also fell by 6 basis points to 2.28%.
After this week's record drop, there have now been 17 consecutive weeks when average mortgage rates have been below 3%. This also marks the first time in the survey's history rates have fallen below 2.75%, and the 13th time this year rates have broken a record.
According to Sam Khater, Freddie Mac's chief economist, weaker consumer spending data, which accounts for the majority of economic growth, drove mortgage rates to its new record low.
"While economic growth remains unstable, strong housing demand continues to have a domino effect on many other segments of the economy," Khater said.
To prevent a credit crunch and make borrowing cheaper, the Federal Reserve started buying bonds – Treasuries and mortgage-backed securities – in March.
Now, these highly favorable mortgage rates are continuing to bring fresh buyers to the market, said National Association of Realtors chief economist, Lawrence Yun. As a result, Yun said home prices are increasing far too quickly, which may prove difficult for first-time buyers trying to come up with a down payment.
October's housing starts data from the Census Bureau revealed construction is attempting to keep up with that heightened demand as starts rose 4.9% to a seasonally adjusted annual pace of 1.53 million – the highest since this February.
When construction will finally catch up with record low rates is still up in the air, but in September, 13 members of the Federal Reserve's Federal Open Market Committee said they expect to keep the central bank's benchmark rate near zero through 2023.
11/18/20  Realtor Magazine "Yun: Real Estate Could See Best Winter Ever "   Lawrence Yun

Defying high unemployment and an economic recession, the housing market has surged during the COVID-19 pandemic. That isn't likely to let up heading into the winter months, said Lawrence Yun, chief economist of the National Association of REALTORS® during Tuesday's "Residential Economic Issues & Trends Forum" at the virtual 2020 REALTORS® Conference & Expo."2020 has been a year of surprises," Yuhttps://www.conference.realtor/n said, singling out the robust housing market in the face of a global pandemic.
Existing-home sales in September climbed nearly 21% higher than a year ago, new-home sales are 32% higher compared to last year, and pending home sales or contract signings jumped 20.5%, housing data shows.
"This winter may be one of the best winters for sales activity," Yun said. "It won't match summer or spring sales numbers, but on a winter-to-winter comparison, this could be one of the best breakout years just based on the fact that pending contracts are at such a higher level."
Mortgage applications also are up 20% year over year, which reflect buyers in the pipeline that have been approved for mortgages and are ready to buy. Home prices are up too: The median existing-home price for all housing types was $311,800 in September—a 14.8% increase from a year ago.
What's next for 2021? A persistent housing shortage will likely keep home prices elevated, while new- and existing-home sales will continue to rise as record low mortgage rates and a work-from-home trend give housing markets a boost, Yun said.
Here's Yun's forecast for the housing market heading into 2021, and how it fares against his 2020 end-of- year forecast:
Mortgage rates: 3.1% (3% for 2020 forecast)
New-home sales: +23% (+20% for 2020)
Existing-home sales: +9% (+3% for 2020)
Home prices: +3% (+6% for 2020)
GDP growth: +4% (-5% for 2020)
Job gains: +3 million (-7 million for 2020)
10-year treasury: 1% (0.9% for 2020)
Consumer price inflation: 1.6% (1% for 2020)
The following are some additional insights Yun highlighted during his address Tuesday during the REALTORS® Conference & Expo.
Low mortgage rates are key against higher prices: One major factor contributing to the hot housing market has been record-low mortgage rates, under 3%, said Yun. He predicts rates will continue to stay low into 2021. Mortgage rates are helping housing affordability balance against rising home prices.
"Some affordability challenges can be alleviated because of mortgage rates," Yun said. However, "if home prices continue to rise at this current level, it could chip away at housing affordability."
The economy likely will continue a strong recovery (but that's dependent on a vaccine). The stock market hit new highs on Monday due to news of a second successful vaccine in trial. If a vaccine comes to fruition in 2021, the economy should continue to recover, Yun said. Still, the economy remains short 10 million jobs in order to return to prior peak employment levels. A large variation in employment recovery is occurring among states. For example, Idaho and Utah are down only 1% in employment compared to a year ago and are even close to reporting more jobs by the end of 2020 than in 2019, Yun said.
By contrast, other states such as New York and California have seen employment drop 11% and 9%, respectively. States that have had longer lockdowns have seen employment recover at slower rates, Yun said. If another lockdown occurs—due to escalating instances of the virus resurfacing—employment could take another hit, he warned. Nevertheless, personal incomes of many Americans have received a boost from stimulus checks, small business loans, and unemployment insurance over recent months, Yun said. The savings rate of consumers has remained elevated during the pandemic.
"That could be unleashed spending into the economy once there's a vaccine," Yun said.
Foreclosures likely won't have a sizable impact on the market. "The job market is not back to normal," Yun said.
So when pandemic-related foreclosure moratoriums and mortgage forbearance programs come to an end, that could lead to a spike in foreclosures, Yun noted.
"That will be terrible for families losing their homes … but from a marketplace point of view, it will be completely unlike the subprime bust" more than a decade ago, Yun said.
Read More
11/18/20 InmanNews "NAR: After 2020 boost, home sales will leap next year "     Andrea V. Brambila
NAR Chief Economist Lawrence Yun predicts existing-home sales will rise 9% in 2021
It has been a year of surprises and the "exceptional performance of the housing market" in 2020 is one that will extend into next year, according to the National Association of Realtors' chief economist, Lawrence Yun.
Yun gave his customary data-packed look at the economy and housing market at NAR's annual conference, the Realtors Conference and Expo, on Tuesday at the Residential Economic Issues and Trends Forum. He predicted higher home sales, higher home prices, stable mortgage rates and continuing low inventory.
"My economic forecast is that in 2020, it is a recession, but in 2021 with the vaccine discovery and availability, it will be positive. The interest rate environment will continue to be low, inflation not really a problem. Mortgage rates should remain stable near 3 percent all the way through 2021," he said.
Yun predicted the year would end with a with a 20 percent increase in new home sales and a 3 percent increase in existing-home sales compared to 2019. In 2021, he expects new home sales to rise a whopping 23 percent and existing-home sales to rise 9 percent. After a 6 percent rise this year, he expects home prices will rise a more modest 3 percent next year.
He added, "In 2021 I think that demand for work from home, demand for larger sized homes, will continue. So home sales [will be] rising 9 percent next year and home prices are in no danger of decline because of housing shortage."
Read More
The above article,"Headline Real Estate News", was compiled and prepared by David Fialk, Realtor Emeritus, and regularly posts real estate articles of interest for home buyers, home sellers and home owners.
Licensed Since 1971, David Fialk is Licensed Real Estate Broker Salesperson in North Carolina (Intracoastal Realty, Wilmington 28411) & New Jersey (Coldwell Banker Residential Brokerage, Metuchen 08840) and has helped more than 1800 Families Move across Town… Throughout the State… and Across the Country!
Planning on purchasing real estate? Thinking of selling your home? For real estate information "You Can Rely On, Contact the REALTOR You Can Rely On".
David can be reached via email or by phone at 910-859-0200 or at www.DavidFialk.com.