When most of us begin searching for a home, we naturally start by looking at the price. It's important, however, to closely consider what else impacts the purchase. It's not just the price of the house that matters, but the overall cost in the long run. Today, that's largely impacted by low mortgage rates. Low rates are actually making homes more affordable now than at any time since 2016, and here's why.
Today's low rates are off-setting rising home prices because it's less expensive to borrow money. In essence, purchasing a home while mortgage rates are this low may save you significantly over the life of your home loan.
Taking a look at the graph below with data sourced from the National Association of Realtors (NAR), the higher the bars rise, the more affordable homes are. The orange bars represent the period of time when homes were most affordable, but that's also reflective of when the housing bubble burst. At that time, distressed properties, like foreclosures and short sales, dominated the market. That's a drastically different environment than what we have in the housing market now.
The green bar represents today's market. It shows that homes truly are more affordable than they have been in years, and much more so than they were in the normal market that led up to the housing crash. Low mortgage rates are a big differentiator driving this affordability.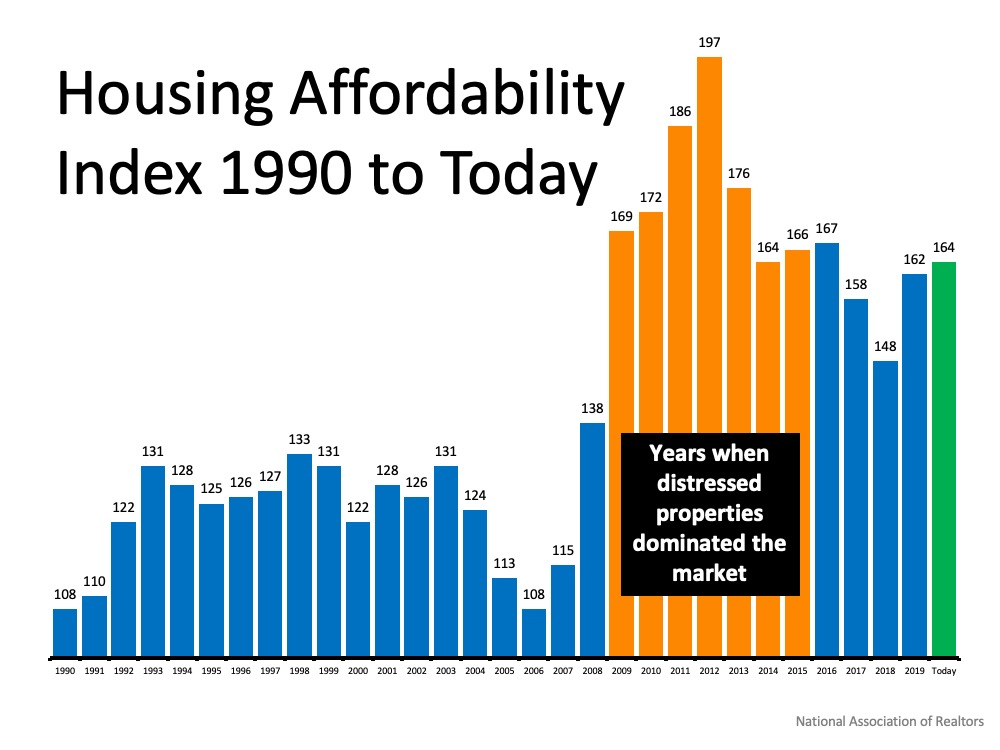 What are the experts saying about affordability?
Experts agree that this unique moment in time is making homes incredibly affordable for buyers.
Lawrence Yun, Chief Economist, NAR:
"Although housing prices have consistently moved higher, when the favorable mortgage rates are factored in, an overall home purchase was more affordable in 2020's second quarter compared to one year ago."
Bill Banfield, EVP of Capital Markets, Quicken Loans:
"No matter what you're looking for, this is a great time to buy since the current low interest rates can stretch your spending power."
"Those shopping for a home can afford 10 percent more home than they could have one year ago while keeping their monthly payment unchanged. This translates into nearly $32,000 more buying power." 
"Homeowners are the clear winners. Low mortgage rates mean the cost of owning is at historically low levels and who gains all the benefits of strong house price appreciation? Homeowners."
Bottom Line
When purchasing a home, it's important to think about the overall cost, not just the price of the house. Homes on your wish list may be more affordable today than you think. Let's connect to discuss how affordability plays a role in our local market, and your long-term homeownership goals.
For mortgage qualification and affordability, a monthly mortgage payment (PITI) consists Principal & Interest, Monthly Real Estate Taxes and Monthly Homeowner Insurance (Plus PMI/MIP and Association dues if applicable). 
Real Estate Taxes can make a difference in Mortgage Qualifying and Home Purchase Price affordability! Let's say a home buyer has Mortgage Pre-Approval in the amount of $275,000 at 3% for 30 years. The principal and interest payment is approximately $1,160.
Generally, Mortgage Pre-Approvals are issued when the Buyer starts the home search and before the buyer locates the property they are interested in making an offer on. What was the amount estimated for monthly real estate taxes in the Mortgage Pre-Approval? More often than not, the Mortgage Rep uses an approximate amount for real estate taxes in calculating the mortgage payment, sometimes close to reality, other times not.
Let's assume the buyer has a down payment of $70,000 and after viewing numerous homes they are now interested in making a contract offer on either of two homes they liked, both priced at $345,000, the price range the initial Pre-Approval provided. The homes are different in design and size and are located in adjacent Towns, and yes, the annual real estate taxes are not the same, an occurrence that occurs quite often when viewing homes in different Towns.
Here is one problem in just viewing homes by price. In this example, the real estate taxes are $2,447 and $1,713 respectfully, a difference of $61.00 per month. A payment differential of $61.00 per month could either push a buyer beyond qualifying for the mortgage or not preferring to have the additional $61.00 in the monthly payment.
Another consideration is Association Fees. In may sub-divisions/neighborhoods there are Homeowner Associations and Annual Fees for the amenities that are provided. Some are $700 per year and others more at $1,000 annually. For mortgage qualifying purposes, that represents an additional $58.00 0r $83.00 monthly. Again, something to be considered when searching by price only.
The reality in a home purchase and affordability is NOT the PRICE of the HOME, BUT the MONTHLY MORTGAGE PAYMENT!
Keeping Current Matters
The Cost of a Home Is Far More Important than the Price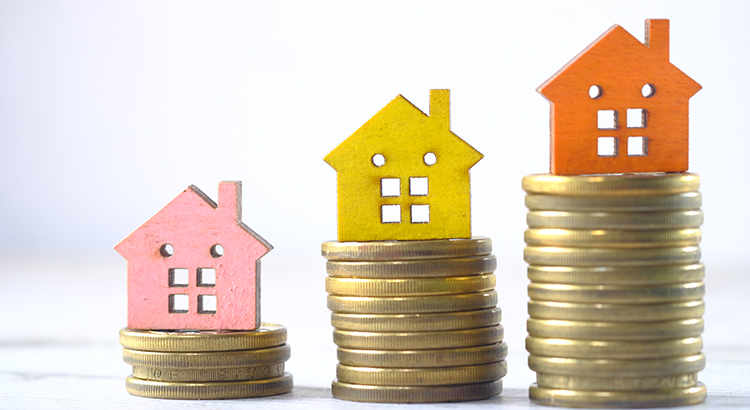 Housing inventory is at an all-time low. There are 39% fewer homes for sale today than at this time last year, and buyer demand continues to set records. Zillow recently reported:
"Newly pending sales are up 25.5% compared to the same week last year, the highest year-over-year increase in the weekly Zillow database."
Whenever there is a shortage in supply of an item that's in high demand, the price of that item increases. That's exactly what's happening in the real estate market right now. CoreLogic's latest Home Price Index reports that values have increased by 5.5% over the last year.
This is great news if you're planning to sell your house; on the other hand, as either a first-time or repeat buyer, this may instead seem like troubling news. However, purchasers should realize that the price of a house is not as important as the cost. Let's break it down.
There are several factors that influence the cost of a home. The two major ones are the price of the home and the interest rate at which a buyer can borrow the funds necessary to purchase the home.
Last week, Freddie Mac announced that the average interest rate for a 30-year fixed-rate mortgage was 2.87%. At this time last year, the rate was 3.73%. Let's use an example to see how that difference impacts the true cost of a home.
Assume you purchased a home last year and took out a $250,000 mortgage. As mentioned above, home values have increased by 5.5% over the last year. To buy that same home this year, you would need to take out a mortgage of $263,750.
How will your monthly mortgage payment change based on today's lower mortgage rate?
This table calculates the difference in your monthly payment: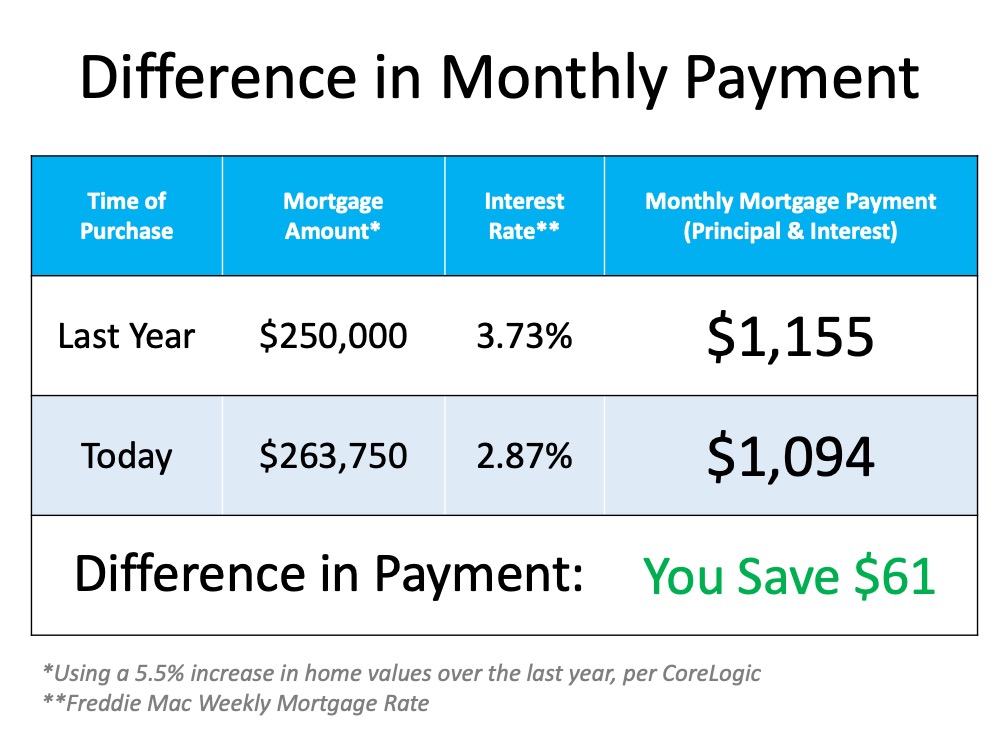 That's a savings of $61 monthly, which adds up to $732 annually and $21,960 over the life of the loan.
Bottom Line
Even though home values have appreciated, it's a great time to buy a home because mortgage rates are at historic lows.