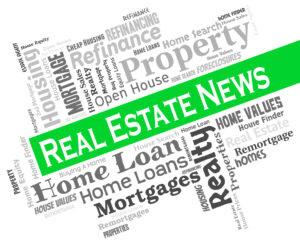 Headline Real Estate News
November 23rd , 2020  – November 28th, 2020
Wondering what the Headline Real Estate News has been for the past week?
11/24/20   "Conforming Loan Limit Increases to $548,250 "   Matthew Graham

If you'd like to read the official FHFA press release, here you go, but here's the skinny on the new conforming loan limit of $548,250 for 2021, up from $510,400 in 2020.
Which loans does this apply to?
Conventional, conforming loans (those sold to or securitized by Fannie Mae and Freddie Mac, which is a vast majority of the market), both refinances and purchases
Does this apply to FHA/VA/USDA loans?
Not immediately, and not equally. FHA will use the new number to announce its own loan limit increases in a week or two. When that happens, you can always use this page to determine your county's limit. VA is a bit different depending on how much entitlement you have (read more on the VA site).
What's the benefit of having a conforming loan amount?
Conforming loans have the lowest effective rates (FHA rates may be lower, but they carry mortgage insurance).  They also have different qualification standards (typically "easier") than loans for higher amounts, but this can depend on the lender and your scenario.
Read More
11/20/20 "Mortgage borrowers' credit scores hit record high"     Jeff Ostrowski
Americans with near-perfect credit scores are reaping the rewards of record-low mortgage rates, a trend that underscores the economic divide created by the coronavirus recession.
The typical credit score for mortgage borrowers rose to 786 during the third quarter of this year, the Federal Reserve Bank of New York said this week in a report. That's the highest level in at least two decades. During the era of loose lending that led to the Great Recession, the median credit score of mortgage borrowers fell as low as 707.
Meanwhile, only a quarter of borrowers who landed home loans during the July-through-September period had credit scores of less than 740. And just 10 percent had credit scores below 683, according to the New York Fed's data.
Read More
The above article,"Headline Real Estate News", was compiled and prepared by David Fialk, Realtor Emeritus, and regularly posts real estate articles of interest for home buyers, home sellers and home owners.
Licensed Since 1971, David Fialk is Licensed Real Estate Broker Salesperson in North Carolina (Intracoastal Realty, Wilmington 28411) & New Jersey (Coldwell Banker Residential Brokerage, Metuchen 08840) and has helped more than 1800 Families Move across Town… Throughout the State… and Across the Country!
Planning on purchasing real estate? Thinking of selling your home? For real estate information "You Can Rely On, Contact the REALTOR You Can Rely On".
David can be reached via email or by phone at 910-859-0200 or at www.DavidFialk.com.