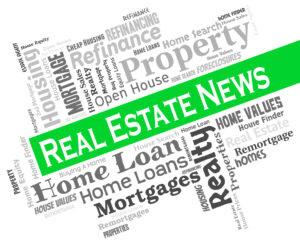 Headline Real Estate News
December 3rd , 2020  – December 11th, 2020 
With the end of the year nearing an end(finally), and the way real estate transactions and sale prices have increased during the Pandemic, it is only natural that statistical reports regarding mortgage interest rates, real estate sales activity and real estate values will be very prevalent in the coming weeks. Reports will vary, but I am sure they will be  consisting of …. Historically Low Mortgage Rates…. Rising Real Estate Values… Continued Shortage of Listing Inventory… Multiple Offers and Bidding War… Virtual Showings… and the various side affects such as the time delays in scheduling Property Inspections and the Appraisal… and all sorts of comments and predictions of what can or may be expected in 2021.
And here are various reports form the past week.
12/3/20 "November 2020 Monthly Housing Market Trends Report: "     

realtor.com-November-2020-Monthly-Housing-Market-Trends-Report-Fall-Housing-Market-Slowdown-Commenced-in-November

12/7/20 "8.9M Americans Have Moved Since the Pandemic Began"    

One in three American adults has transitioned to partial or full remote work during the COVID-19 pandemic, freeing them up to move further distances.
"Some of them seek out bigger houses with bigger yards for their kids to play in and office space for them to work," Nadia Evangelou, a research economist for the National Association of REALTORS®, writes in a recent post at the association's Economists' Outlook blog. "Others seek more affordable homes in less dense places away from large city centers since they can telework."
NAR tracked change-of-address data from the U.S. Postal Service from March to October to determine mobility changes since the pandemic began. A total of 8.93 million people have relocated since the start of the pandemic, the data shows. Most people moved at the
beginning of the pandemic and during the summer months.
Thirty-four states saw net migration gains nationwide, which means they had more people moving into the state compared to those moving out. New Jersey, South Carolina, and Maryland had the highest migration gains across the country. On the other hand, New
York, Texas, and the District of Columbia have lost the most people since the beginning of the pandemic, the data shows. More than 50% of those who left New York moved to New Jersey or Connecticut. Also, most relocating Texans moved to Arkansas, Florida, or New
Mexico.
NAR cautions that the data is not a full-year comparison and may not yet fully represent true migratory trends
12/9/20 "Homes Appreciate at Fastest Rate Since 2014"     
magazine.realtor-Homes-Appreciate-at-Fastest-Rate-Since-2014

12/10/20 "Top Economic and Housing Experts Predict Post-Pandemic Rebound With Continued Job Growth, Stable Interest Rates in 2021"     
WASHINGTON (December 10, 2020) – Expect the post-pandemic economic rebound, improving job conditions and stable interest rates to continue in 2021, according to a survey of more than 20 top U.S. economic and housing experts. Lawrence Yun, NAR chief economist and senior vice president of research, unveiled the consensus forecast today during NAR's second annual Real Estate Forecast Summit.
When asked if the Federal Open Market Committee will change the federal funds rate in 2021, 90% of the experts surveyed said they expect no change in the current rate of 0%. For 2022, the experts predict a rate increase of 0.25%.
"It is an understatement to say the year 2020 has been filled with challenges and full of surprises," said Yun. "Yet, one astonishing development has been the hot housing market as consumers eyed record-low mortgage rates and reconsidered what a home should be in
a new economy with flexible work-from-home schedules."
In 2020, home sales will reach 5.52 million, the highest annual mark since 2006, with the median home price setting a record high of $293,000, according to NAR.
Read the Full Release
12/10/20 Housing stats and analysis from NAR's research experts
"Instant Reaction: Mortgage Rates, December 10, 2020"     Nadia Evangelou
The 30-year fixed-rate mortgage remained flat this week after reaching a new record low a week earlier to an average of 2.71%. NAR forecasts the 30-year fixed-rate mortgage to average 2.9% and 3.0% in the first and second quarter of 2020, respectively.
These ultra-low mortgage rates make homebuying more attractive, boosting activity to the highest level since 2006. In the meantime, inventory hits all-time lows. The rising imbalance between demand and supply for housing is putting upward pressure on home prices. Home prices rose 16% in October compared to a year earlier. However, wages rose 9% during the same period. Thus, home prices are growing nearly twice as fast as wages, in terms of percentage change.
However, when we compare the amount increase of the mortgage payment with that of wages, housing is still affordable due to lower mortgage rates. Although home prices rose 16% compared to a year earlier, monthly mortgage payment for a 30-year fixed-rate increased by $10. In contrast, the typical American earns monthly $380 more than a year earlier. Thus, expect homebuying activity to remain very strong in 2021.
The above article,"Headline Real Estate News", was compiled and prepared by David Fialk, Realtor Emeritus, and regularly posts real estate articles of interest for home buyers, home sellers and home owners.
Licensed Since 1971, David Fialk is Licensed Real Estate Broker Salesperson in North Carolina (Intracoastal Realty, Wilmington 28411) & New Jersey (Coldwell Banker Residential Brokerage, Metuchen 08840) and has helped more than 1800 Families Move across Town… Throughout the State… and Across the Country!
Planning on purchasing real estate? Thinking of selling your home? For real estate information "You Can Rely On, Contact the REALTOR You Can Rely On".
David can be reached via email or by phone at 910-859-0200 or at www.DavidFialk.com.