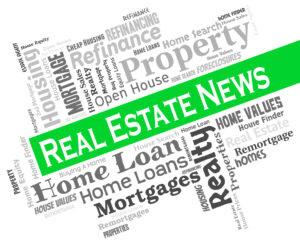 Headline Real Estate News
 November 30th, 2020  –  December 5th, 2020
Wondering what the Headline Real Estate News has been for the past week? Great Reading …..
* Buyer Demand   * Increased Home Sales   * Rising Home Prices   * Record Sale Price Gains
* A Look into the 2021 Market 
11/30/20  "The downside of the hot 2020 housing market: rapid home-price growth "     Logan Mohtashami


With artificially low mortgage rates, there's nothing to restrain demand



Demand for housing was strong in early 2020, before the COVID-19 crisis hit. Mandated shut-down measures and the fear of what COVID would do to our economy temporarily immobilized the housing market, evinced by nine weeks of declines in the weekly purchase applications data on a year-over-year basis. Then it was as if the Housing Demographic God exerted her chronokinetic powers to snap demand back to pre-COVID levels of growth. The frozen market thawed and resumed its steady pace of growth, even making up for lost time.
Instead of a housing crash, as many others predicted would be the lasting consequence of shut-down policies and massive job losses across the nation, the opposite happened as the 2020 U.S. housing market has been the most out-performing economic sector in the world.
However, we now have another issue to worry about — that home prices will accelerate too quickly, unrestrained by an increase in mortgage rates. As you can see below, we have deviated from the normal price growth that had been the trend in recent years.

My biggest fear for the housing market in years 2020-2024 was never a lack of demand, as the housing bubble boys have been trolling about the last eight years — it was an unhealthy rate of price growth due to demographics and low mortgage rates.
When demographics are good for housing, meaning we have a large number of our populace at home-buying age, demand — and thus home prices — can be moderated by higher interest rates. We were witness to this in 2018 when mortgage rates increased to 4.75%-5%, demand fell and the rate of growth of real home prices went negative, year over year.
That was then and we can clearly see this isn't the case anymore.
11/30/20 "New-Home Sales Are 41.5% Higher Than a Year Ago "   

Buyers are increasingly are targeting new-home construction as they face a low inventory of existing homes. New-home sales in October are 41.5% higher than they were a year ago, the Commerce Department reported late last week.
"Buyer traffic remained strong in October even as the country's attention was focused on the elections and policy issues going into 2021," says Chuck Fowke, chairman of the National Association of Home Builders. "Mortgage rates remain low and builder confidence is at an all-time high indicating that demand remains steady and sales will remain solid."
Sales of newly built single-family homes in October were down only 0.3% compared to September's revised numbers. But even with the slight monthly decline, new-home sales remain significantly elevated this year.
According to the NAHB's data, "the gap between construction and sales was at an all-time high in early fall," says Robert Dietz, the NAHB's chief economist. "Thus, the NAHB forecast contains an acceleration in single-family starts and some slowing of the pace of growth for new homes sales to allow a catch up. Demand remains strong as home buyers seek out lower density markets as part of the suburban shift."
The median sales price of a new home in October was $330,600. For comparison, a year earlier, the median sales price was $322,400.
Inventories remain tight at a 3.3-month supply at the current sales pace. Despite high buyer demand, inventories of new single-family homes is 13.4% lower than a year ago. Homebuilders point to ongoing labor and lot shortages and rising lumber prices as reasons new-home construction has slowed.
New-home sales are hottest in the Northeast and Midwest, where, on a year-to-date basis, sales are up 29.9% and 29.8%, respectively. New-home sales on a year-to-date basis are also up by 20.1% in the West and by 18.5% in the South.
Source: National Association of Home Builders
11/30/20 "Rising home prices take a toll on pending home sales "     Alex Roha
First-time homebuyers get boxed out as prices continue to rise
U.S pending home sales fell 1.1% in October – the second consecutive month the index has fallen as affordability strains the market, a recent report from the National Association of Realtors said. However, borrowers are still maintaining a strong pace, as contract signings are up 20.2% compared to a year ago.
According to Joel Kan, the Mortgage Bankers Associations assistant vice president of economic and industry forecasting, that robust year-over-year improvement in activity is a sign the market will continue to see sustained demand for housing through the end of 2020.
"Realtors cited a combination of high demand and low inventory, which are making conditions more competitive and exerting upward pressure on prices. The faster price growth is leading to affordability challenges for certain segments of buyers, and particularly for first-time homebuyers," Kan said.
Year over year, pending sales are showing promise in every region of the U.S, however, the South was the only area that managed to grow from September – up just .1%. The Midwest dropped 0.7% but remained 19.6% higher than a year ago while the West remained unchanged from last month and 20.8% higher year-over-year.
As talk of an urban exodus continues, the Northeast's pending home sales slid 5.9% in October – though still 18.5% greater than last year.
With both the inventory of homes for sale and mortgage rates sitting at record lows, NAR chief economist Lawrence Yun said strong demand has pushed home prices to levels that are making it difficult to save for a down payment, especially for first-time buyers who don't have the luxury of using housing equity from a sale to use as a down payment.
In September, CoreLogic's Case-Schiller home price index saw the greatest year-over-year gain since 2014, and climbed nearly 23% higher than its last peak in 2006 as multiple economists forecasted prices to continue their upwards growth.
According to Yun, median home prices are rising "much too fast" and that transforming raw land into developable lots and new supply are clearly needed to help tame the home-price growth. At this rate, Yun said even low interest rates have a limit to how much they will help affordability.
Pending home sales looks specifically at contracts that have been signed but where the transaction has not closed on sales of already existing inventory. Because the work-from-home environment has given borrowers the chance to live anywhere, Yun said increased demand for second homes has created strain on the existing homes on the market.
Right now the Census Bureau and Department of Housing and Urban Development estimate a current supply of 3.3 months at the current sales rates as builders attempt to keep up.
12/1/20 "October's Home Price Gains Break a Six-Year Record"     Jann Swanson

That the rapid rise in home prices since spring is setting near decade long highs was confirmed again this week, this time by CoreLogic. The company says its Home Price Index (HPI) rose 7.3 percent over the 12 months that ended in October and was the was the fastest rate of appreciation since April 2014. Prices were up 1.1 percent month-over-month.
The company says that home prices climbed in recent months due to heightened demand and ongoing home supply constraints. This could grow worse if the pandemic worsens and potential sellers hold off listing their homes. There is hope, however, for meeting some of the demand. New home construction surged in October and the National Association of Home Builders reported its index measuring home builder confidence in the new home market set a third record high in as many months.
While prices are rising rapidly on a nationwide basis, local markets continue to vary. Phoenix has a severe shortage of for-sale homes and prices there posted a 2.1 percent annual increase in October. Meanwhile, the New York-Jersey City-White Plains metro saw prices rise only 2.1 percent as residents continue to seek out more space in less densely populated areas. At the state level, Maine, Idaho, and Arizona experienced the strongest price growth in October, up 14.9 percent, 13.1 percent, and 12 percent, respectively.
"The pandemic has shifted home buyer interest toward detached rather than attached homes," said Dr. Frank Nothaft, chief economist at CoreLogic. "Detached homes offer more living space and are typically located in less densely populated neighborhoods. And while prices of single-family detached homes posted an annual increase of 7.9 percent in October, the price of attached homes rose only 4.5 percent year over year."
Looking forward, CoreLogic expects home prices to slow dramatically. Its HPI Forecast is for annual appreciation to drop to 1.9 percent by October of next year. The company adds, however, that should the economic recovery from the pandemic be more robust, then that projection for home price performance might improve.
"Home buyers have been spurred by record-low mortgage rates and an urgency to buy or upgrade to more space, especially as much of the American workforce continues to work from home," said Frank Martell, president and CEO of CoreLogic. "First-time buyers in particular should remain a big part of next year's home purchases, as the largest wave of millennials is heading into prime home-buying years."
The HPI Forecast also projects a continued disparity in price growth across metros. In markets like Las Vegas, where the local tourism economy and job market continue to struggle, home prices are expected to decline 1.8 percent by October 2021. Conversely, in San Diego, home prices are could grow by 7.9 percent over the next 12 months as low inventory continues to push prices up.
12/2/20 "Home Purchase Activity up 9% Despite a Slow Holiday Week"     Jann Swanson

There was the usual disruption to mortgage application activity during the Thanksgiving holiday week that ended November 27, although the volume, especially of purchase applications held up relatively well. The Mortgage Bankers Association (MBA) said its Market Composite Index, a measure of mortgage loan application volume, eased back by 0.6 percent on a seasonally adjusted basis from one week earlier and was down 32 percent absent adjustment. During Thanksgiving week in 2019 the adjusted Index fell by more than 9.2 percent.
The Refinance Index decreased 5 percent from the previous week but was 102 percent higher than the same week one year ago. The refinance share of mortgage activity decreased to 69.5 percent of total applications from 71.1 percent the previous week.
The seasonally adjusted Purchase Index increased 9 percent from one week earlier but was down by 28 percent on an unadjusted basis. Activity was 28 percent higher than the same week one year ago.
Read More
12/2/20 "Sellers Likely to Keep Market Advantage Next Year"   

Buyer competition remains strong, and low inventory is pushing home prices to new highs—so sellers are likely to keep their market advantage next year, according to realtor.com®'s 2021 housing forecast. Home price growth may slow but will continue an upward trend, along with property appreciation for sellers, realtor.com® predicts.
The forecast notes that housing affordability is likely to worsen: "Buyers in 2020 received a huge boost in affordability as mortgage rates pushed to new lows throughout the year. However, a lack of inventory and strong demand drove prices up, erasing most of the boost," realtor.com® notes. "As mortgage rates are no longer able to counteract rising home prices, affordability will be tested for buyers across the board in 2021."
Housing shortages will largely continue to persist, though realtor.com® forecasters predict the number of listings to slowly rebound in 2021. "Additional homes hitting the market will offer buyers some relief in 2021, but it won't be enough to tip the scales in favor of buyers," realtor.com® notes. "As inventory slowly begins to replenish and buyer demand for homes remains steady, sellers will continue to be in the driver's seat."
However, the ongoing COVID-19 pandemic and the possibility of a double-dip recession are two major wild cards that could lie ahead in 2021, realtor.com® notes.
12/2/20 "The New Rules for Buying a House in 2021"     Brenda Richardson

Image by: Arad Golan Coll for Money
If you're ready to take the plunge into homeownership, get a head start on packing.
Much of how coronavirus pandemic has reshaped the buying process is just starting to become clear. While some steps have slowed (like getting approved for a mortgage) most others have sped up significantly compared to a year ago as low mortgage rates and changing household needs are leading to intense competition.
One example? According to the National Association of Realtors, 72% of homes sold in October 2020 went to contract in less than a month, down from 36 days in October 2019.
"What we're seeing lately is that homes that are listed for sale don't stay on the market very long," said Frank Nothaft, chief economist for data analytics provider CoreLogic. "There's a contract that's placed on the property pretty quickly. So days on the market have actually gotten shorter, and home prices have gone up."
1. Forget the spring homebuying season
Coronavirus lockdowns and restrictions on home tours threw the housing market a curveball in the spring, usually the busiest time of year for sales.
"What happened is we had a shifted seasonal pattern," said George Ratiu, senior economist with Realtor.com. "Summer became spring, and then we saw the activity in terms of demand for housing continue well into this fall."
In October, existing home sales grew to a seasonally-adjusted annual rate of 6.85 million — the highest pace since 2006.
"The surge in sales in recent months has now offset the spring market losses," said Lawrence Yun, chief economist for NAR. "With news that a COVID-19 vaccine will soon be available, and with mortgage rates projected to hover around 3% in 2021, I expect the market's growth to continue into 2021."
Low mortgage rates and the rise of remote work have been driving home-purchase decisions. In a normal year, a significant share of buyers would base their home purchasing decisions around the start of the school year.
Remote work "has driven people to seek better solutions to what they discovered in the era of COVID," added Ratiu. "All of a sudden our homes are no longer big enough. So that drove demand."
2. Start your search online
The way prospective buyers shop for homes has evolved rapidly over the course of the pandemic. For instance, virtual tools such as 3D home tours provide a better sense of how a property flows than just photos can.
"Pre-pandemic we had some agents starting to use video," said Nothaft. "But once the pandemic hit, we saw agents really move much more actively towards using video tools, including 3D imagery to market the homes. While we do not have data to confirm this yet, anecdotal stories do suggest that online shopping has reduced the number of homes that buyers visit."
Continue and Read More
The above article, "Headline Real Estate News", was compiled and prepared by David Fialk, Realtor Emeritus, and regularly posts real estate articles of interest for home buyers, home sellers and home owners.
Licensed Since 1971, David Fialk is Licensed Real Estate Broker Salesperson in North Carolina (Intracoastal Realty, Wilmington 28411) & New Jersey (Coldwell Banker Residential Brokerage, Metuchen 08840) and has helped more than 1800 Families Move across Town… Throughout the State… and Across the Country!
Planning on purchasing real estate? Thinking of selling your home? For real estate information "You Can Rely On, Contact the REALTOR You Can Rely On".
David can be reached via email or by phone at 910-859-0200 or at www.DavidFialk.com.