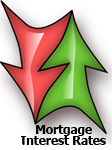 Should Buyers Pay More Attention to Mortgage Interest Rates
or
Timing the Home Purchase When Home Market Values Hit Bottom?
The Dilemma: Buy Now or Wait?
Home buyers are searching for the answer.
Many buyers are looking at homes week after week. They see home prices below price levels of last year, and much below the values of years past. They are viewing homes with mortgage payments that are affordable due to the historically low mortgage interest rates. Yet, they hesitate to purchase and decide to look at more homes the following week!
However, something new is occurring, something not seen too much in recent years. Many of the recent homes previewed are under contract the following week, and many owners had multiple contract offers to choose from. In fact, some market areas are experiencing slight price increases.
Mortgage interest rates have dropped the past five weeks. It is quite common to find interest rate quotes for 30 year fixed mortgages at 4.6%, versus 5.25 % as recently as December, 2010. And 3.8% for 15 year fixed rate mortgages. Yes, it is not too difficult to believe that mortgage interest rates may be at the bottom! The information below, from very respectable sources, is something a home buyer may want to analyze.
The image below is obtained from The KCM Blog:
Four major institutions project rates: The National Association of Realtors (NAR), Fannie Mae, Freddie Mac and PMI. Here is what each is seeing in the next year.
Yes, the above interest rates are projected, but let's look at the mortgage payment ramifications as mortgage interest rates increase.
4.6%                 30 Year Loan             5.75%
$250,000
$1,281.61                                             $1,458.93
If  purchase prices do not change in the next 12 months and the mortgage amount remains the same, an increase in mortgage rates to 5.75% would cost a home buyer approximately $177 a month more, $2.124 for one year and $21,240 over a 10 year period of ownership.
What if real estate market values have not hit bottom, drop an additional 3% and the mortgage interest rate increases during the next year? These are the new calculations when reducing the mortgage amount by $7,500, or 3%.
4.6%                 30 Year Loan             5.75%
$242,500
$1,243.16                                             $1,415.16
If per chance  mortgage rates did not increase, there would be a monthly savings of approximately $38. If mortgage rates did increase to 5.75% and the purchase price did drop by 3%, the mortgage payment would still be approximately $134 more than it is today.
In fact, if there is a change in mortgage interest rates to 5.75% and a buyer postponed their home buying decision, there would have to be a drop in market values of approximately $23,000 in order to have a mortgage payment comparable to what it is today.
Home buyers should pay attention to how much real estate values have dropped in the past 6 years. Home buyers should pay attention to what real estate values are right now, and not ponder whether they will drop further, or try to time the market to when they may hit bottom!
A home buyer will not know when real estate values have hit bottom. The bottom is only known when real estate values and sale prices increase!