Let's Talk About Mortgage Interest Rates

Again!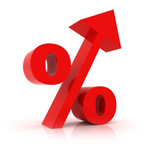 Well, interest rates increased to over 5% in December, 2010. Then they retreated to a little under 5% in January, 2011. Now, they are moving back up above 5% again. Refresh your memory with a review from my January 10th post.
First of all, mortgage rates at 5% are near historic lows. And yes, they may retreat again to under 5 % again. BUT……
What if they don't? What if they rise further? As the interest rate increases, so does a home buyer's mortgage payment. A small mortgage rate  increase of .25% increases a mortgage payment approximately $32.00 per month on a $200,000 mortgage loan. The options are either paying $32.00 more per month, borrowing approximately $6,000 less in a mortgage loan or paying $6,000 less in the price for a home just because of an rate increase of .25% relative to a $200,000 mortgage loan. Not too pleasant in thinking about if you are currently looking to purchase or are planning to look for a home shortly, is it?