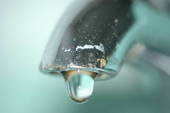 Actual Cost of Repairs and Improvements
While it is true that that the condition of a home has a definite affect on its market value, and that a well maintained home will sell for more than a home in need of updating and repair, the actual cost of making repairs and improvements may not be equal to the increase in market value. Why? Cost does not necessarily equal value in real estate.
Repairs and improvements are two different things.
A repair corrects something that is broken or not working properly, and does not necessarily add value to a home when fixed. Some types of repairs are considered necessary repairs. A leaking
faucet, broken windows, clogged drains, screens with holes, gutters hanging from the roof, missing downspouts, cracked concrete walkways, among others. Repairs like these can be considered deferred maintenance, and are considered minor repairs. They are maintenance related and are easily noticed by buyers. They draw attention and become distracting to buyers when viewing a home. If not taken care of, conditions like these will definitely have a negative impact on the marketability of a home, which then will have a negative affect on market value. When repaired or fixed, these type repairs make a home more saleable, not necessarily more valuable.
In other words, just because repairs like these cost $1,500 does not mean that they have increased the value of the home in the same amount. However, if not repaired, they could result in a loss in value of more than the cost to repair and, maybe more important, the loss of potential buyers because they feel the home needs too much repair and work.
What about the roof, exterior siding, windows, heating system, electrical system, central air
conditioning system and hot water heater? These type improvements are more costly than the repair items noted above and can have a larger impact on marketability and market value. While a buyer may not rave about how beautiful the furnace looks because it is now, they will definitely have negative thoughts on a home where the furnace is original and is 50 years old. A new or newer furnace will be more efficient than the original, save the buyer money in monthly fuel bills and, more importantly, is an item that will not need to be replaced by the buyer in the near future.
These type items relate to the effective age of a home. The chronological age of a home can be much different than its effective age. There is a life expectancy in how long a roof will last, how long a furnace will last, etc. A 50 year home can have an effective age of 20-30 years when improvements like these have been made. When comparing homes, buyers are concerned with near future essential repairs and improvements which need to be made, especially those that are costly, like these.
Quite often buyers will pass up on homes they are interested in simply because they need too much near future updating, even if the asking price is appropriate considering the condition of the home. Why? Very often buyers just do not have the time or inclination to take care of major updating, but more importantly, they may not have the additional cash to make the improvements after closing as they have exhausted their savings for the down payment and closing costs.
Should a homeowner replace the original 50 year old furnace when they are ready to sell? Should they invest the $2,300 to $4,000 and have the furnace replaced?
A furnace is an integral system to the home, and something buyers are concerned with. However, it is just one aspect of the home. The question relates more to whether it will cost more to sell the home with the original furnace than what it would cost to replace it. If the furnace is the only item requiring immediate attention, it may not prevent a sale. However, if there are other must do improvements, the furnace will have a negative impact on market value.

Decisions like this have to take into consideration the overall condition of the home. When investing in a new furnace today and spending $2,500, what is the likelihood of receiving a full return on the investment? The reality is that it will help sell the home, but not necessarily at a price to recapture the actual cost of new furnace.
What about the home where a state of the art kitchen or main bath are new improvements
made by the owner? Can a seller expect to recapture all or most of the cost? Improvements like these are very costly, and will definitely add to market value. But will the seller recapture all or most of the cost? That depends on various other factors, such as how recent the improvements are, what the overall condition of the home is, the price range the home is in, where the home is located and, more importantly, what buyers are expecting to see in a home like this.
With regard to major improvements in a home, all too often the improvements are made for the benefit and enjoyment of the owner and not solely for recapturing the total investment! Each and every major improvement to a home is unique. There is no rule that guarantees an exact amount of value added for specific improvements.There are studies available that approximate increased values for specific improvements, but every real estate market area is different, whether you own a home in Iselin, New Jersey, Edison or Colonia, in Woodbridge Township, in Middlesex County or any other state.
For more information, just Google "cost versus value improvements".

Read the Previos Article on this Topic
Read the Next Article on this Topic